Solutions to Hair Loss — surgical hair transplant OR nonsurgical hair replacement system?
0 Comments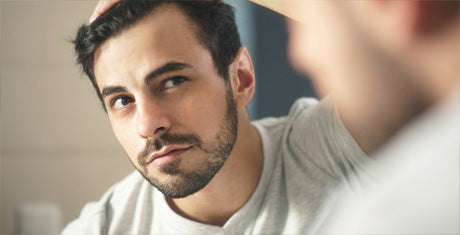 Healthy lustrous and shiny hair is just what everyone wants. Isn't it? It's a feel-good factor and an addon to an individual's self-esteem.  However, hair loss is becoming a major problem in many people's lives, who often feel upset and unconfident of themselves. At present, there are two solutions to hair loss: Non-Surgical Hair Replacement and Surgical Hair Transplant.
Let's take a look at them both individually.
What's surgical hair transplant?
Surgical hair transplant, to some extent, is a surgical technique that removes hair follicles from one part of the body to a bald or balding part of the scalp. In this minimally invasive procedure, an implant containing an anti-balding hair follicle (such as the back of the head) is transplanted onto the bald scalp to regenerate new hair. While not everyone who experiences hair loss is eligible for a hair transplant, you should notice that hair transplant surgery, actually, requires much, not only higher cost but also the amount of donor hair the client has, and if you have a limited number of healthy hair follicles remaining, then a hair transplant is not ideal.
The Pros and Cons of Hair Transplant
To become further acquainted with hair transplantation surgery, read on to first learn about the various pros and cons of this procedure, and then decide whether you're a candidate for a transplant.
Pros:
Regrowth of Natural Hair – With the completion of the treatment, individuals need not go for any other types of treatment for renewing the hair. The hair implanted will continue its growth for its entire lifecycle. Since the recipient is also the donor, the hair ends up looking completely natural.
Simple Procedure – The operation is carried out under local anesthesia, so the treatment is reasonably safe. The hair that regrows back is uniform and remains intact for a long time. Hair transplant guarantees that the overall follicular distribution does not change.
Permanent Process –The results of a hair transplant don't just last for one or two years, but they last almost forever. A hair transplant isn't like wearing a toupee or wig, you don't need to reattach it from time to time which saves much time and trouble for you.
Improved Self-Esteem – Hair loss or bald will be devastating for some individuals and break their confidence. The option to regain a more youthful appearance, especially when the signs of aging arrive prematurely, always improves your outlook on life. In addition, you will not have the embarrassment of your wig falling off in the wind or being discovered while swimming and exercising.
Cons:
Long Recovery Time – When hair is transplanted, it will still look the same for about a month. After that, it takes 3-5 months before the transplanted hair begins to grow again. It takes additional time beyond that for the hair to get to an appropriate length to be able to style. That means you won't see the best results from a hair transplant until about 8-12 months after the procedure.
Expensive Cost – The cost maybe $10,000 or more per procedure. Because it's considered a cosmetic surgery when used for age-related hair loss, hair transplants typically are not covered by medical insurance.
Hair Loss in Newly Transplant Hair – There is a possibility that individuals may experience hair loss in the newly transplanted hairs. This kind of risk is very low, but in some circumstances, the transplanted hair may fall out with no signs of growing again. In most cases, hair loss is just shedding of hairs, resulting in hair growing back after a short duration.
Infection – Hair transplant also has risks such as infection or haemorrhaging. However, if individuals strictly follow the instructions of their doctors, these risks are unlikely to occur. If infections or excess bleeding persist, patients need to undergo simple treatments to cure them.
What's non-surgical hair replacement?
Non-surgical hair replacement, to some people, they are known as hairpieces, toupees or wigs. With improvements to the materials and hair used in construction, it has got the name simply as 'hair system'. Non-surgical hair replacement products are hybrid versions of age-old toupees and wigs. It can be based on the size of your hair loss part and hair color, type, texture, length and so on to choose your hair shape and hairstyle. It is very realistic, super comfortable, durable and easy to wear, which is why many people choose it. (Click here to check products)
The Pros and Cons of Hair Replacement System
Pros and cons of non-surgical hair replacement is a burning topic of discussion and sometimes even argument. Comparing to a lot of positives, the negatives of the hair replacement system is scarce. There is no denying the fact that non-surgical hair replacement system is the crucial solution for those struggling with hair loss and baldness.
Pros:
Non-invasive Hair Solution – Unlike the surgical transplant, with a non-surgical hair replacement system,  you don't need a surgery, and you don't have to put up with the risk of infection, scarring, and anesthetic dangers that comes with surgery. Being a non-operative method, you can put it on and take it off at any time without feeling pain.
The Immediate Change – Compared to hair transplants, the major advantage of the non-surgical hair replacement system is that it can offer immediate results. A hair transplant usually takes 6 to 7 months to heal, whereas a hair replacement system requires only that you put it on your head so you can see exactly what you look like. The best part is that you can customize anything you want and wear them for long period of time. You don't have to wait for a wig to grow, or worry about the hair isn't right for you.
Affordable Than Surgery – The initial cost of non-surgical hair replacement is minimal in comparison. Usually, An operation costs as high as $15,000 and if you are not satisfied with the result, you need to pay for another operation. To give so much money all at once is very unfriendly to those who are not rich. We can't say that replacing, repairing, washing, or otherwise fiddling with wigs over life may be more expensive than having a hair transplant, but the initial cost is still lower.  
Zero Side Effect – If I had to point out the side effects of the non-surgical hair replacement system, there were almost no side effects other than very rare allergic reactions caused by the use of low-quality adhesives. Since it is a non-surgical method, it will not have any medical effect on the body. 
Reversible In Nature – When wearing a non-surgical hair replacement system, if you are not satisfied with the result or you don't like this hair system, It is easy for you to change it and buy another new one. But this can't happen in hair transplant. If you are not satisfied with the results of the surgery, the only way is to pay for another operation and take 6 to 8 months to recover.
Cons:
Timely Maintenance – Since the hair replacement system is attached directly to your scalp, the skin beneath the membrane will still shed and produce body oils like normal. So you need to repair, wash and clean it frequently. Constant maintenance helps keep up with the natural effect and extends the lifespan of your hair system.
Repeat buying – Every hair system has its own life span, which can last up to a year if properly cared for. It means after that, a new unit purchase is required. Year after year, many systems need to be repeatedly purchased, but it still costs less than hair transplants.
Fear of discovery – Although the technology of making hair replacement systems is very mature now, and it is more natural than before, but after all, it is an external thing, and there is no way to guarantee that it will not be found. There is a tendency that some people do not wish their hair to be known, and for people who are lack of confidence, It can be difficult for them to admit that they are wearing a wig.
Persistent haircuts – If you are not completely bald, you can't ignore that your natural hair still continues to grow and need to be washed and cut regularly. Keeping a close-cropped hair cut can allow the hair system to blend well with the scalp and look natural, and can even turn a weakness into a strength.
Both surgical hair transplant and hair replacement system are good solutions for hair loss. However, no matter which way you choose to battle with hair loss and regain a full head of hair, getting a full knowledge of available methods is a necessity, and that is also the way you're responsible to your hair and your health.
Guess What This Man Uses – hair transplant or hair replacement system?