The Latest Guide On Hair System Shedding Issue (2020)
0 Comments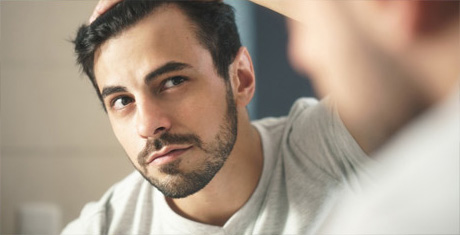 Hair quality
Synthetic Hair
Real Human Hair
Remy Hair
Virgin Hair
The Different Ventilation Methods
Knotting Ventilation
V-looped Ventilation
Injected Ventilation
How to stop the human hair system shedding? (10 Tips)
After shedding, what can you do?
How to wash your hair system?
How to prevent oxidation?
How to style your hair system?
How to store properly?
Why not get a professional to repair the hair system?
It's time to replace a new one!
The hair shedding issue might be the most frustrating problem for the most hair wearers. There's no worse feeling than brushing your hair system and watching those precious hair locks fall out of place. Ever wonder why does this happen.
The degree of hair replacement system shedding varies in different situations. It is a normal thing that a hair replacement system start to fall off mildly in the first few days after receiving it or wearing it for a few months. However, if the shedding is severe all the time, after the first few weeks or when it is still new, then there is a big problem and you need to find out what causes this to happen. Might it be a product quality issue, or it might is caused by a wrong maintenance routine.
Hair Quality
Synthetic Hair
Some people tend to choose to wear synthetic hair system because of its cheaper price. But it has an unnatural shine that does not look very attractive in your hair. Unlike real human hair, synthetic hair cannot be heated, dyed, colored, and styled. If you try straightening or curling your synthetic hair, it will melt. Moreover, synthetic hair has a tendency to get into so many knots and tangles that it is hardly to be brushed out and it will cause serious falling off of hair.
Real Human Hair
Indian hair
Indian hair is very soft and fine and is best suited for dark hair colors of any hair length and shorter hair lengths in just about any color! Indian hair is versatile, very fine, light and bouncy. It can be easily curled and styled. The natural color of Indian human hair is black. If you choose the light color Indian human hair which means it's been dyed and colored, this kind of chemical processing will hurt the hair which may make it become easy to be broken.
Chinese hair
Chinese hair is the strongest hair compared with other hair types, and it have a very good natural straight. When you keep the Chinese hair in hand, you can feel its thickness. That's why it is the best for straight hair products. Also, Chinese hair can stand deeply processed because of its thickness, so most blonde or light color all be produced by Chinese hair. However, the deeply chemical processing will definitely bring hurt to the hair, thus Chinese hair will be applied the coating to make sure it looks and feel good. The problem is that once the coating is worn off by applying heat, washing the hair, or adding chemicals, the hair will become dry and tangle easily which is the major cause of hair shedding of hair replacement system.
European hair
European hair has a fine denier and has natural light brown and blonde shades which require less processing. One of the major benefits of European hair is that this kind of naturally available in a range of colors, avoiding the need for aggressive bleaching which reduces the damage to hair. European hair is silky and shiny by natural and considered to be the highest quality of hair you can buy. The supply of European hair is not as abundant as Indian or Chinese hair, so product lines are often more limited and it is much expensive.
Remy Hair
Remy hair simply refer to how the hair is handled and stored. In other words, the hair that's kept "root-to-tip" which means that the root end is distinguishable from the tip end. The hair strands follow the same direction, which avoid the most tangling and matting (if processed properly). In addition, Remy hair is subjected to fewer chemical processes which allow the hair to be healthier. Another important characteristic of Remy hair is cuticle. If hair with cuticle is inverted, it will become a tangled knotted mess, especially when wet. Remy hair is easier to maintain, last longer and look healthier and more natural than Non-Remy hair, which can look very shiny and artificial when first purchased and become dry and dull over time.
Virgin Hair
Virgin hair haven't gone through any kind of chemical processing, which is collected from a single donor. The virgin hair is Remy hair that has not been altered by dyes, perms, bleaches or harsh washes, the cuticles all still have to be intact and running the same direction. Therefore, it is far more superior to Remy hair. The greatest thing about virgin hair is that it can last up to a year with proper care and maintenance.
The Different Ventilation Methods
Our hair replacement systems are all made by hand, instead of the machine, and each individual hair strand is woven one at a time to ensure its quality. In order to keep the knot as invisible as possible, the knots need to be very tiny. The tiny knots are very fragility and therefore it is common for the hairs on a hair replacement system to start shedding at the 3-month mark.
As we all know that the hair is either knotted or injected or v-looped onto the hair replacement system base manually, so it cannot avoid that some hairs are not knotted correctly or firmly. So the hair will shed when you comb through it. But this will not be that much. On the other hand, when you wear the hair system for a pretty long time, then the knots become loose naturally, thus will have hair loss problem too.
Knotting Ventilation
Knotting ventilation is the most common type which can is used in lace hair system. The hair is tied around the mesh material in very tiny knots are usually available in three different sizes: double knots, single knots and half knots. Each of these is used for a different purpose, each having variation of strength, visibility as well as positioning on the hair system.
Double knot:It is ideal for a very thick hair system density with lots of and height. The bigger hair knots usually make it difficult to lay the hair down flat, thus the hairstyle should be fuller. The double knots will be more durable than others.
Single knot:It is the easiest to lay flat and is best for a freestyle hair pattern. However, compare to the double knot, it is easier to loose.
Half knot:It is the smallest and the most undetectable hair knot. The half knot is smaller than a single knot and can also be used in a slick back hair style.
Bleached knots: After the knots are being tied to the base, our workers apply a layer of bleach liquid to the knots. It takes out most of the color and leaving a virtually invisible knot. The major advantage is that it can create an undetectable hairline that looks like it's growing from your scalp. But chemicals used in bleaching can make the knots weak and prone to hair loss.
V-looped Ventilation
The v-looped ventilation is applied to the poly system base. Our workers will puncture two holes (go and back hole) in the base with a needle which is specially for ventilating hair and then hook one or more strands of hair around the needle and pull the hair through the holes to make a V-shape. The strands of hair which attached to the needle depends on the hair density required by the customers. The next important of V-looped ventilation is sealing the hair. Before placing the hair system in an oven to dry, our workers need to turn over the base and brush a layer of poly on the underside to seal the hair and smoothen out the underside for the comfortable wearing experience.
V-looped ventilation leaves no knots so it creates the very natural look, but it does not have such a long lifespan. The lifespan also depends on the thickness of the base. The hair of the thin base will be easy to fall out and the base is very delicate. For example, the 0.03mm super thin skin can only last 1-2 months. If it is thicker than that, it will last a little longer, like 0.05mm can last around 2-3 months.
Injected Ventilation
Just like V-looped ventilation, injected ventilation can only be used on the poly bases – it is not possible for lace, mono or any other type of base. Our workers also use a special kind of ventilation needle to punch the hair through the base without returning back to the up sides. It also creates the very natural appearance because there are no knots. This also causes the same problem as V-looped ventilation that the hair is easy to fall out if the base is very thin. The next step will be more complicated than v-looped ventilation. Before brushing on the poly, our workers will shave the hair roots simply by using an electric razor. The roots should be shaved to the same length. Our workers will leave the roots with a bit of length which will make the hair last longer on the base. Then, our workers will brush on a layer of poly to seal the hair and finally, they iron the roots down flat on the base when the poly still not dry. After the poly dry, the hair lay down and covered the base.
The above mentioned, hair color, hair type, knot type, etc, It's all part of what we can choose, and too much manipulation can cause hair to fall out faster. If you want your hair system to last longer, please choose the best hair quality, and the original hair color(natural black), also the double knots and no bleach knots.
How to stop the human hair system shedding? (10 Tips)
● When you wear a hair system, please pat your head with your hand instead of scratching your scalp. Scratch will loosen the knots and cause the system shedding easily. If your head is really itchy, you need to take your hair system off and wash your head with anti-itch shampoo. And then put on your hair system after your hair dries naturally. Do not apply the hair system when your hair is wet!
● Apply a knot sealer on the hair system to seal the knots and keep them tied firmly. This is a spray bottle, so it's very convenient to use, just spray it on the lace or mesh, and then allow it to completely dry before wearing. Please be noting that resealing should be done after every wash once the wig is dry.
● When combing a lace hair system, use a wide-toothed comb or a cushion brush. Comb your hair piece gently. Start from the hair ends and work upwards to the base of the cap. Don't comb it from top to bottom. Be sure to comb the hair system thoroughly before washing, wait for it to become dry to straighten the hair again. Do not comb it when the hair is wet!
● Avoid using hair care products with high alcohol content, they will lead to breakage and hair shedding. Look for specially-formulated products for hair systems, or products that are low in alcohol. We advise you to use shampoos and conditioners without sulphate ideally. We recommend THE JOICO MOISTURE CO-WASH SULFATE-FREE SHAMPOO & CONDITIONER IN ONE which also cuts down on the washing and helps prolong the life of the system.
● Please be sure to remove all the glue and tapes before washing the hair piece, to minimize the risk of shedding. When washing, tear away the remaining adhesive, will be the hair along with the removal, resulting in local hair loss.
● After cleaning, please let you hair system air dry. Don't wring or squeeze the wet hair. Use towel to soak the water by gently press. And then let it dry naturally in the air, but without any sunshine. Avoid using a hair dryer, the heating from it will split the knots and cause shedding. If you want a quick dry, you can use a hair dryer, but be sure that it is on a cool setting.
● While you don't have to take off the hair system every day to sleep, the friction between the hair and the pillow can tie the hair and exceed hair loss. We recommend you go to bed with your hair braided, wrapped in a silk cap instead of a towel, or replace your pillow with a silk one to reduce friction and knot.
● When swimming, remember that chlorine and salt in the water will cause damage to the hair system, always wear a cap to prevent prolong exposure to the chlorine or salt water which causes the hair to tangle. After each swimming or washing your hair system, use some junction sealing machine. This will strengthen the hair knot, and the protection of your full lace hair system from shedding.
● Always keep your hair clean. We suggest that you wash the hair system at least once every 2-3 weeks with warm water. If you like exercise and sweat a lot, please wash your hair immediately after exercise, or sweat will build up and cause knots. Too much leave-in conditioner and other products will create a build up on your hair and make it tangle faster.
● Regular care and maintenance is the most important factor in making wigs last longer. Use products made specifically for hair systems. Most hair care products on the market contain chemicals and alcohol that can cause hair to dry, break and fall out. And do less hair manipulate, the more styling you do, the more you'll be pulling on your hair, the more your hair will be shedding.
After shedding, what can you do?
● How to wash your hair system?
Each of us produces sebum, which is a natural oil. This natural oil helps keep hair healthy and protects every hair. Unfortunately, hair systems have little sebum. Continuous wear, excessive washing and cleaning can dry out the sebum in your hair, so we recommend washing the hair system every 2-3 weeks at least.
Shampoo and conditioner are an indispensable part of the shampoo process, and with the right shampoo and conditioner you can get twice the result with half the effort.One of the most important ways to get the results you want is to wash your hair properly.
Here are 4 steps to help you know how to wash your hair piece:
1.Remove the hairpiece tape and glue residual, rinse under medium warm running water, then in a bowl of clean warm water add some shampoo.
2.Using mild shampoo. While applying shampoo, don't apply it directly to your hair wig, add the appropriate amount shampoo in the warm water. People are confusing about cold water or warm water using to wash wigs. Warm water (about 77-86°F) is recommended, as water above 86°F may deform the human hair wig and make your wig lost the firmness of elasticity and cold water cannot melt the shampoo and conditioner well.
3.Apply the correct amount of conditioner from the top of your head to the bottom. Make sure to spread it evenly all over your hairpiece, avoiding getting too close to the roots. Wait a few minutes, then rinse with running water.
4.Dry it. Blot dry your hair by gently pressing or patting the hair with a cotton towel. Do not rub your hair! Remember use the cool air set instead of hot air. Or you can air it on the balcony, but avoid the sun direct shine on your hair system.
The differences between cleaning lace and poly.
Since solvents affect each basic type differently, the difficulty of the cleaning process depends on the material you choose.
1.Poly base:
1.1 Easy cleanup with red liner tape.We recommend use red liner tape directly on the base, followed by your extended wear tape. Although this does not affect the strength of your bond, it does make the clean up much easier. When cleaning, just need to gently peer the red tape along with the adhesive off, there will be very minimal adhesive residue, if any, left on the base for cleaning. Spray some solvent on the base, wait about 10 minutes, and then wipe it away with a toothbrush or a soft brush. Finally,wash the base with dish soap to remove residual solvents. (Please be noted that the red line tape can not be used on lace base!)
1.2 Solvent soak for excessive adhesive breakdown. If you do not use red line tape first, you may have messy adhesive breakdown on the base when you remove your system. In that case, the most common cleaning method is to soak it in solvent for about 15 minutes before brushing it off with a soft brush or toothbrush. Please note that when using colored solvents such as C22, please avoid soaking for too long and causing staining.
2.Lace base:
2.1 Solvent soak for excessive adhesive breakdown.The solvent soak is generally used for lace hair system that have accumulated significant adhesive breakdown. To prevent this buildup, it is necessary to remove the system before the bond had completely broken down (you can feel the sticky residue around the base). As it breaks down, it gets gooey and tends to work its way up through the lace and into the hair which makes a complete mess to clean up. Lace material is so delicate that you should be careful not to soak it too long, it will cause the knots to swell, leading to premature shedding. You need to be careful not to use too much solvent, the solvent which submerges the underside of the base is enough, too much solvent will lead to the tangled and matted hair.
2.2 Mirror slide for quick and safe cleanup.The mirror slide is the preferred way to clean your lace hair system, it is fast and can protect the hair from soaking in solvent. When it comes to remove the adhesive residues on the lace bases, you need to use as little tension/pressure on the base as possible. If you put too much tension on the base when scraping off the adhesive residue, you will risk causing the system to fray too quickly or you could end up tearing the hair system. (This method is not suitable for skin hair system, as the sliding will cause the poly to stretch. )
No matter what base material you choose, you have to ensure that there is no solvent left on the base before reattaching the system. If you don't get all of the solvent and adhesive residue off of your base, it can prevent the tape or liquid adhesive from adhering properly on your next attachment.
● How to prevent oxidation?
Oxidation is a chemical reaction that occurs anytime your hair system is exposed to both oxygen and harmful UV light at the same time. When these UV light rays make contact with the oxygen molecules that are on your hair system, they affect the color hues of your hair system, turning orange or red. It's a very slow process, but it does damage the outer layer of the hair shafts on your hair system. If you spend a lot of time outdoors doing yard work or exercising, consider wearing a hat or baseball cap. Or use UV hair system protection will be a good choice, whether it comes in the form of a protection spray, or a leave-in conditioner, UV protection will make sure to keep oxidation at bay by making sunlight bounce off of your awesome-looking hair system.
● How to style your hair system?
When drying the hair with a hair dryer use only warm air never have the blow dryer on maximum heat. 
Use the blow dryer on the coolest setting only long enough to arrange the hair into desired style. Think of the blow dryer as a brush and do not blow the hair system totally dry which will cause the matted and molded look. Let the hair air-dry the rest of the way and then brush it.
Only use brushes that have flexible bristles with cushions on the ends. The cushions will help prevent the bristles from snagging the holes in your lace which could cause a tear.
Choose the Alcohol free styling products to style your hair system.
Fix is an exceptional finishing hair spray which provides instant life and style support to fine and thin hair without extra weight. Offers instant hold and shine to your style for all-day support. Holds the shape of the hair even after multiple brushing. Permits easy re-styling and re-spraying. In addition, Herbal Essences Spray Hair Gelle is also a good product.
● How to store properly?
Hair piece is a very delicate thing as well as human hair. Improperly storing your hairpieces can cause all of the following: damage from exposure, dust collection from an unsanitary area, and tangles from mixing up with other items. Properly storing your hairpieces ensures that they'll be ready to go whenever you need them, as soon as you need them. Just find a nice, dry paper box (any box will do, as long as you keep it in a cool, dry place) and place the hair piece in it when you're done. When you take it out, it should look as good as when you first stored it. If you can, please put each hair piece in its own individual box, and putting them in the same box can lead to confusion.
● Why not get a professional to repair the hair system?
1.Add hair
Hair systems are like our own hair, and hair loss is inevitable. We can help you add some hair on any part of the hair system, even gray hair. If you notice that you have more gray natural hair, you can increase the gray percentage of hair in your system for blending purposes.
2.Detangle and deep condition
Over time, all hair systems lose their luster.Hair can become dry, brittle, faded and tangled.We can handle it!Our staff works hard to rejuvenate the color and replenish moisture and elasticity with deep conditioning treatments.They can tame even the most fearsome entanglements without fear.
3.Precision cut-in service
In addition, our factory also provide cut-in service. If you don't have a designer in your area that's easy to find, or if you need to make some additional adjustments to your existing style, then an in-house cut-in is the best option. In addition to styling and maintenance, our factory can also make adjustments such as bleaching knots, reworking waves/curls, and correcting colors. However, there are some limitations, so it is better to allow us to evaluate the system before assuming that it can be fixed.
● It's time to replace a new one!
The lifespan of hair replacement system depends on various factors, such as the quality of the system base, the type of hair, and your daily maintenance routine. Here is an approximate timeline guide:
1- 2 months      for 0.03mm thin skin hair systems
2 - 4 months      for 0.05mm thin skin hair systems
4- 6 months      for 0.10mm thin skin hair systems
5- 8 months      for 0.15mm thin skin hair systems
5- 7 months      for Swiss lace hair system
6- 9 months      for French lace hair system
7- 12 months      for mono hair system
How long your hair system last also depends on how you take care of of it. If you do not always take good care of your hair system, it will result in dry,tangled, unmanageable hair that deteriorates faster than should be expected.
As we said before, knowing how long will your system last depends on various factors like how often you wear it, how well you maintain it.
But how do you know when it's time to replace your system? Here are some signs to tell you it has expired:
- The coloring has dulled
- The coloring has dulled
- The hair system doesn't hold its shape all-day
- The system doesn't feel comfortable or secure on your head
- The system base is broken up
- Large area shedding
- You want to change another hairstyle
When these signs occur, it is time to consider whether a hair system needs to be replaced!
In addition to ordering a new hair system, you can choose the repair service to extend the life of your hair system and save you a few money by sparing you the cost of a new hair system. Here is a few options you can choose: